FAQs
Frequently Asked Questions:
2022 Power to Heal Campaign
What is the Power to Heal Campaign?
This annual campaign offers you the opportunity to join in celebrating a growing culture of gratitude at MedStar Health. In honor of your colleagues and fellow associates, you may give a philanthropic gift, gratitude message, or both.
When can I participate?
ANYTIME! Your philanthropic gift and gratitude messages are welcome today, or anytime during the year.
Who will benefit from my contribution?
This year, the Power to Heal Campaign will continue to focus on supporting and enhancing the Associate Wellbeing initiatives that benefit all associates across MedStar Health. Caregiver burnout has taken a toll on our healthcare associates, especially over the past few years. To build on the progress that we have already made, this year's Power to Heal Campaign will continue to support associate wellbeing initiatives.
In the past year, we have been able to create a peer support network, build recharging stations in our facilities, implement wellness rounds, and share mental health and wellness resources with our associates.
This year, funds raised through the Power to Heal Campaign will support initiatives at each entity and across the system such as expanding our peer-to-peer services and support networks, enhancing wellness rounding, providing mental health support for physicians and associates, educating resilience coaches, and growing virtual services for associates working remotely.
As one MedStar Health, we have the power to leverage the strength of the entire organization to rally around a single strategic initiative to support MedStar Health associates across the system. When we say, "It's how we treat people," we are referring to every person. And it begins with our associates.
Where can I participate?
Click here to make a philanthropic gift and send a gratitude message online.

Text

GRATITUDE

to

51555

Complete the commitment form and email to

powertoheal@medstar.net

.
How does the Power to Heal campaign work?
It's simple! You can share kind words with a colleague via the online form. If you wish to make a commitment, you can through:
Recurring monthly credit card gift
One-time gift: cash, credit card, check
Charitable estate gift
Auto renewal payroll deduction
*The amount of your choice will be deducted from your biweekly paycheck beginning the first Jan. 2023 pay date and will continue indefinitely until you contact the MedStar Health philanthropy team at powertoheal@medstar.net.
When will my payroll deduction start?
January 6, 2023
Please note, this year, you must complete a new payroll deduction form to continue to participate. Click here to participate today.
What is my annual payroll deduction contribution?
If you are interested in payroll deduction, the chart below outlines suggested investment amounts.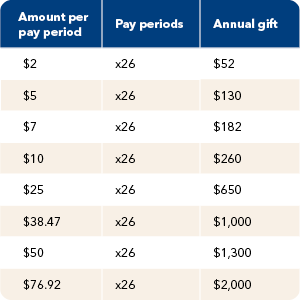 If I missed signing up for payroll deduction in 2022; can I start a recurring gift any time of the year?
Yes! Please click here to participate at any time. If you have questions about the process, please email powertoheal@medstar.net.
How do I update my payroll deduction?
This year, you will need to opt-in to make your new payroll deduction pledge in January. Your previous payroll pledge will not continue into January. To update, change, or stop your current payroll deduction before January, please email powertoheal@medstar.net.
Can I make a one-time deduction via payroll?
Yes, you can make a one-time payroll deduction on the first pay date, Jan. 6, 2023, for a minimum donation amount of $10.
Where can I find my receipt for tax purposes?
Your total deduction for the year can be found on your pay stub. To view your deduction, click here and navigate to "Self Service," then click on "Payroll and Tax." Here you will see your past paychecks. Click on your paycheck and you will see a field towards the bottom named "After-Tax Deductions: MedStar Health Gift."
For more information about your pay stub, click here.
Can I support more than one fund?
Yes! Simply indicate how much you would like to designate to each fund on the form.
For any additional questions, please contact the philanthropy office at powertoheal@medstar.net or call 410-772-6747.